Digital Still Photographs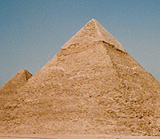 We also have 4,000
12 megapixel still photographs shot in all areas of Egypt.
These 12 megapixel digital photographs can also be licensed. Click here to view thumbnails of the 4000 digital stills.
Digital Panoramas
In addition, we also have a number of digital Panoramas of Egyptian locales such as the Valley of the Kings, Abu Simbel, the Sphinx, the Temple of Philae, the Temple of Edfu, Kom Ombo Temple, the Aswan Dam, the Egyptian Museum, Sunset on the Nile, and Sunset in Cairo. Click here to view thumbnails of the Panoramas
Background Plates
Our Stock Footage Library includes a series of 3 minute lock down 1080i High Definition Background Plates for compositing with Green Screen and ChromaKey processes. Utilizing these Background Plates for commercials and music videos, actors can be superimposed into scenes filmed in multiple locations in Europe, Egypt and the United States. Recently, Papa John's Pizza used our Trevi Fountain and Amalfi Coast 1080i High Def background plates for a national commercial. More…
Digital Photographs
We have an extensive catalog of 12 megapixel digital photographs from Italy, Greece, the UK, including Rome, Venice, and Pompeii, Athens, Rhodes, Corfu, Santorini, and Istanbul. In addition, we have High Dynamic Range (HDR) photographs from Pompeii, Rome, Venice, Athens, Rhodes, Corfu, Santorini, and Istanbul. More…
Standard Def Footage
We also have an extensive collection of beautiful NTSC Standard Definition footage of Rome, Venice, and London. This footage is attractively priced and suitable for web use. More…
Licenses
We have "All Media, Worldwide, in Perpetuity" licenses along with more limited use licenses. We will fit our rates to your use - just tell us how you plan to use the footage and approximately how much footage you need and we will work with you to fit your budget. And we have fast turn-around time!
We Have NEW Egyptian 1080i HD Footage!
We now have over 24 hours of NTSC 1080i High Definition Stock Footage of Egypt, Cairo Street Scenes, the Egyptian Museum, ancient temples, and the Nile. Shot in January 2008, this beautiful HD footage can also be downconverted to SD - both 16x9 and 4x3 formats.
We have extensive 1080i HD coverage of the typical shots you might need of Egypt and the Nile - shots include:
Cairo - Day and Night
The Egyptian Museum - Exterior
Khan el Kahili Bazaar
Mohammed Ali Mosque
the Giza plateau
The Pyramids
The Sphinx
Luxor Temple
Karnak Temple
Valley of the Kings (SD only)
Valley of the Queens
Aerial footage of the Valley of the Kings/Queens
Abu Simbel
the Colossi of Memnon
Esna
Temple of Edfu
Temple of Hathor
Dendera Temple
Kom Ombo Temple
Aswan Dam
The Temple of Philae
Hieroglyphics in closeup
Various other temples and obelisks
Camels and riders in the desert
Feluccas sailing on the Nile
Plus extensive footage along the Nile - Day and Twilight
Steadicam POV footage shot at a number of temples and the Pyramids
Watch for our Egyptian HD Footage in "The Lost Treasure of Ugarit," a 3 part original mini-series and the Canadian Broadcasting Corporation's "The Nature of Things" episode titled "Along the Rift."
LICENSING:
VITA Digital Productions was the creator of this high definition video footage and owns the copyright thereto. We license our footage on a per-use basis. Pricing is dependent upon use, term of license, and types of media covered. These factors determine the type of license granted and the cost of that license.
Typically, clients contact us via email and tell us exactly how they want to use our footage and we respond with a price quote. The client then tells us what type of shots are needed and we then send a Screener DVD with those type of shots along with a timecode burn. After viewing the Screener DVD and selecting footage, the client sends us timecode cues, and after payment, we send the clean footage to the client, either by harddrive, tape, or FTP. Of course, this procedure may change depending on the client's needs or circumstances.
We do offer a "Worldwide, all media, in perpetuity" license along with more limited licensing. Please contact us and tell us exactly how you plan to utilize the footage for a quote.
And we offer fast turnaround! Click here to email us